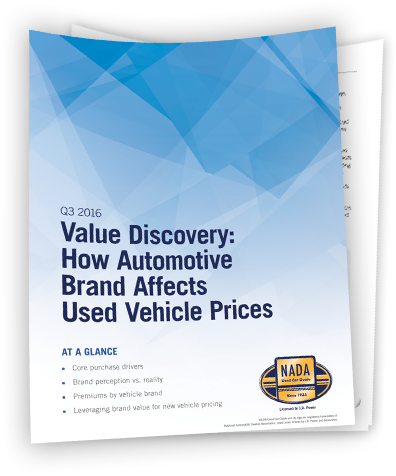 NADA Used Car Guide Special Report:
Value Discovery: How Automotive Brand Affects Used Vehicle Prices
A vehicle brand's reputation determines its value, or the premium that consumers are willing to pay. Highly respected brands benefit not only from greater consumer awareness and loyalty, but also from higher retained value.
This white paper explores the brand characteristics that drive auto purchase behavior and their impact on used vehicle prices. Understanding these characteristics is critical for building intrinsic vehicle value and preserving revenue potential in an increasingly competitive market.
Topics Include:
Core purchase drivers

Brand perception vs. reality

Premiums by vehicle brand

Leveraging brand value for new vehicle pricing

NADA Used Car Guide Special Report:
Value Discovery: How Automotive Brand Affects Used Vehicle Prices